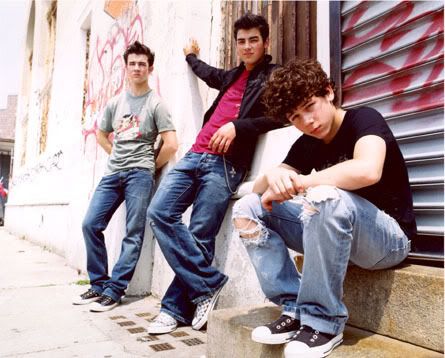 Its a big week for the
Jonas Brothers
, as their newly released third album entitled "A Little Bit Longer" dominates the sales chart. Fans of the trio came out in droves on Tuesday, the day the band's third album, A Little Bit Longer, was released. Sales for that day alone were estimated at 201,000, according to Billboard. At this rate, the group, made up of brothers Kevin, Joe and Nick, will have their first No. 1 album next week.
"We are just really living the dream right now," Kevin Jonas told the Associated Press, "and for us, having this album finally hit stores and having [the fans] sing the songs, knowing that they can actually hear them and have it in their possession is the most amazing thing for us. We're so excited."
Projections show Longer will hit around 700,000 in its first week, including digital downloads. That marks the third biggest opening of the year, behind Lil Wayne and Coldplay.
The brothers' last album, Jonas Brothers, is also inching its way back into the top 10. If those sales hold up, it will be the first time in a decade since a group has had two top 10 albums at the same time. The last act to do so was N Sync in 1999.
The tween sensations spent the week in New York, playing Madison Square Garden, appearing on TRL and dishing about what they look for in girlfriends.
Up next for the brothers is a new show on Disney Channel, J.O.N.A.S.