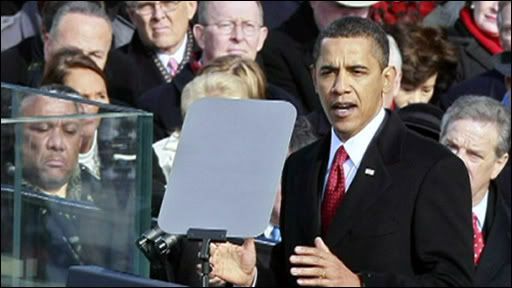 The 44th president of the US was sworn yesterday and its a very exhilarating experience. Though the swearing ceremony was riddled by mistakes in the side of President Obama, it does not stop the crowd in cheering and applauding the newly sworn leader of the country. His inaugural speech was staggering and lots of Americans watching on the grounds of the White House and from the TV had tears in their eyes. With emotions running high, a record-setting crowd bearing witness and an unprecedented number of former presidents – Carter, Bush, Clinton and Bush – looking on together on the Capitol Steps, Barack Obama placed his right hand on Abraham Lincoln's Bible on Tuesday and stirringly affirmed: "I, Barack Hussein Obama, do solemnly swear that I will execute the office President of the
United States
faithfully."
Even Mother Nature seemed under Obama's spell. By the start of the ceremony, the skies over Washington, D.C., were clear but for the thinnest wisps of cloud, as a blinding sun kept winter temperatures tolerable. As one Obama aide put it, "if Barack Obama can deliver 70 degrees and sunny in Chicago for Election Day in November, we never had any doubt the sun would shine on his inauguration."
Here's The Speech Of President Barack Hussein Obama:
My fellow citizens:
I stand here today humbled by the task before us, grateful for the trust you have bestowed, mindful of the sacrifices borne by our ancestors. I thank President Bush for his service to our nation, as well as the generosity and cooperation he has shown throughout this transition.
Forty-four Americans have now taken the presidential oath. The words have been spoken during rising tides of prosperity and the still waters of peace. Yet, every so often the oath is taken amidst gathering clouds and raging storms. At these moments, America has carried on not simply because of the skill or vision of those in high office, but because We the People have remained faithful to the ideals of our forbearers, and true to our founding documents.
So it has been. So it must be with this generation of Americans.
That we are in the midst of crisis is now well understood. Our nation is at war, against a far-reaching network of violence and hatred. Our economy is badly weakened, a consequence of greed and irresponsibility on the part of some, but also our collective failure to make hard choices and prepare the nation for a new age. Homes have been lost; jobs shed; businesses shuttered. Our health care is too costly; our schools fail too many; and each day brings further evidence that the ways we use energy strengthen our adversaries and threaten our planet.
Check the complete speech from People.com.