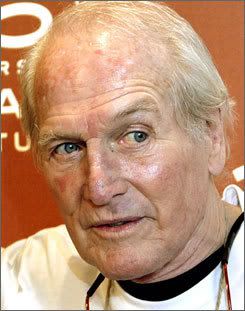 Oscar winner, Paul Newman's illness is shrouded with mystery.Just today, reports had been scattered that the actor has chosen to be released on a hospital after a prolonged treatment sessions against
cancer
. Rumor says that Paul Newman has only weeks left to live and his illness is not yet identified. I certainly hope that this rumors aren't true and if it is then my heart goes to the family of one of the greatest actor of all time.
The star of "Butch Cassidy and the Sundance Kid" and "The Sting" was being treated at Weill Cornell Medical Center in New York. He left there in a wheel chair after deciding he did not want to die in the hospital.
Newman is said to be putting his affairs in order and even gave away his prized Ferrari to a close friend. A move that apparently angered his children who are having a hard time coming to grips with the eminent death of their father.
The type of cancer Newman is suffering with has not been announced but there have been reports that he did have surgery on his lungs during the treatment.
Aside from acting, Newman also is part owner of a racing team and has his own salad dressing brand.