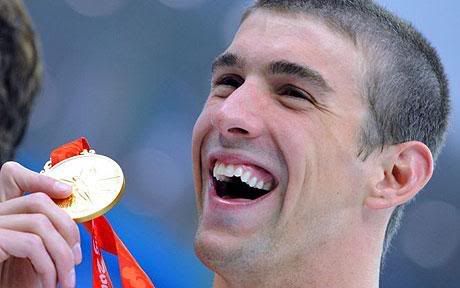 Its been 5 days since the start of the 2008 Beijing Olympics but American swimmer Michael Phelps is on fire winning 3 gold
swimming
medals to date. Yesterday he won easily the competition on the 200-meter freestyle category.
He touched the wall in just 1:42.96 – a new world record – shaving almost a second off his old mark, set in Melbourne, Australia in 2007.
The silver medal went to Park Tae-hwan of South Korea, while Phelps's teammate, Peter Vanderkaay, claimed bronze.
The win gave Phelps, 23, his ninth career gold medal, tying legendary American athletes Carl Lewis (track and field) and Mark Spitz (swimming).
He remains on track to fulfill his Olympic dream – winning eight gold medals in Beijing. (He would break Spitz's record of seven swimming golds, set in 1972.)
His next goal, The 200-meter butterfly and 800-meter free relay.