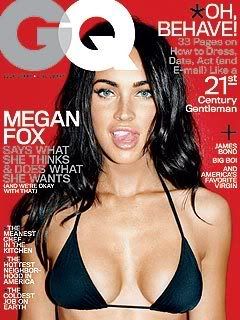 Megan Fox is heating up men's magazine GQ's October issue, posing in her bikini for its cover. The actress, who in April 2008 has been crowned as
FHM's No. 1 Sexiest Woman
in the World, shows off her curvy figure for the magazine's cover in black bikini, exposing part of her breasts.
That's the tongue-across-the-teeth, barely-there-bikini picture gracing the October issue of GQ, in which Fox, 22, makes no apologies about her movie roles.
"If I get stuck doing comic book films for the rest of my life, I'll be really happy," she tells the magazine. "I love those types of movies. And I don't mind being sexy – if it's a character with a back story and an arc and something progresses."
Of posing for the magazine, Fox says: "I am very excited to be involved with GQ, as it is such a great magazine."
Fox, meanwhile, is also on the cover of Maxim, but her reps say the magazine proceeded without her cooperation, purchasing older photos that already have run in other magazines.
A Maxim rep says: "Megan Fox is a talented actor and a favorite of our 13 million readers and we're pleased to recognize her accomplishments in the October issue with this beautiful photo portfolio."