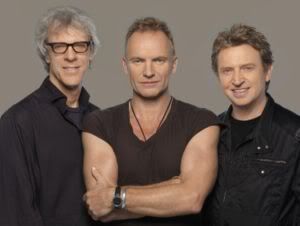 The Police Journey has ended. Thursday night's Madison Square Garden performance was the final show of the
The Police
' reunion tour – and, appropriately enough, New York's finest were onstage too. Wearing a NYPD hat and badge, Sting rocked out on his battered bass guitar while members of the New York City Police Department Band played backup for the trio.
Celeb guests arriving at MSG included Emmy Rossum, Gerard Butler, Rosanna Arquette and her daughter. After the show, Debbie Harry, Bruce Springsteen and his wife Patti Scialfi hung out backstage.
The concert – which doubled as a fundraiser for Public Television Rocks! benefiting local stations Thirteen/WNET and WLIW21 – also featured a guest appearance by The B-52s.
Along with the benefit proceeds, eBay is auctioning off instruments belonging to Sting and his bandmates, Andy Summers and Stewart Copeland, to help out the two stations.
But don't fret if you want more of the Police: Sting revealed on his Web site that the band filmed Spectacle: Elvis Costello with The Police at Harlem's historic Apollo Theatre.
The trio teamed up with fellow Englishman Costello to do a Jimi Hendrix song, as well as the pop singer's "Watching The Detectives" and the Police's "Walking on The Moon."
The concert is slated to air later this year.