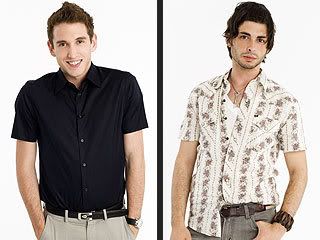 Wesley Nault is currently dating fellow Runway participant Daniel Feld. It is such a good karma for Nault despite being eliminated from the show
Project Runway
Season 5 last Wednesday. Well, according to People magazine Nault had confirmed that the two of them indeed have a relationship.
"We met on the show," Nault told PEOPLE. "And we tried to keep it very professional on the show because we were both there for our careers, and we didn't expect this to come out of it. But I'm really happy."
Nault & Feld
Speculation about a relationship between Project Runway contestants – a first for the Bravo show – began online after fashion bloggers noted that both designers listed that they were "in a relationship" on their MySpace pages. And both listed each other as a "top friend."
Runway's executive producer Jane Lipsitz also confirmed to PEOPLE that two of this season's contestants were dating each other, but never specifically named them.
"I am shocked that they're talking about this, I really am," Nault says about the buzz surrounding his relationship. "I'm shocked it's such a big deal."
And rest assured, Runway fans, the designing duo are going strong. "We're still together – and it's going really well," says Nault.
So well, in fact, that the two designers may have a professional collaboration to look forward to.
"Daniel and I are talking about possibly working on something together," Nault says. "Everything's in the works right now."