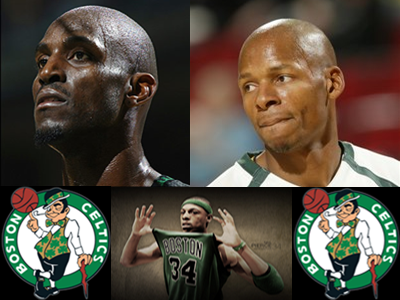 Its a big disappoint for LA Lakers fan watching their team being buried in a 39 points advantage of the now NBA champion Boston Celtics. The Celtics have returned to their home turf to deliver a very fatal blow on the Lakers ego. This is the 17th franchise win of the Boston Celtics there first one after 22 years of drought. This is also the first ring that Kevin "The Big Ticket" Garnett received from his entire professional
basketball
career.
The big 3 of the Boston Celtics had been emotional on the end of the game even tough Garnett cried while being interviewed. Garnett scored 26 points with 14 rebounds, Allen scored 26 and Pierce, The Finals MVP who shook off a sprained right knee sustained in Game 1, added 17 as the Celtics, a 24-win team a year ago, wrapped up their first title since 1986.
In the final minute, Pierce doused Celtics coach Doc Rivers with red Gatorade. Owner Wyc Grousbeck, who named his group Banner 17 to leave no doubt about his goal, put an unlit cigar in his mouth - a tribute to Auerbach, the patriarch who had a hand in the franchise's first 16 titles.
Garnett and Allen were All-Stars in other cities, stuck in Minnesota and Seattle, respectively, on teams going nowhere. But brought together in trades last summer by Celtics general manager Danny Ainge, a member of the '86 Celtics champions, they joined Pierce and formed an unbreakable bond, a trio as tight as the club's lucky shamrock logo.
Congratulations Boston Celtics! NBA Champions 2008!