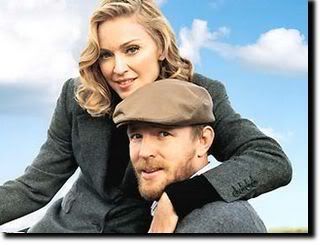 After months of being on the spotlight, the marriage of Material Girl singer
Madonna
with her director husband Guy Ritchie had come to an end. The couple confirmed that they are officially divorcing after almost eight years of marriage. They had not reach any settlement and will go to the court for the legal settlement of their fortune. However, the couple remained tough that the issue should not have to affect their children which they are protective
The former couple, who have Rocco, 8, and David, 3, together and Madonna's 12-year-old daughter Lourdes with ex Carlos Leon, announced their divorce in a statement.
"The judgment of the court would be to try and assess what they came in with and divide what they built up fairly equally," said David Allison, a lawyer with Family Law in Partnership, a London firm, told the Associated Press.
In a front page story Wednesday, Britain's Sun newspaper claimed that the couple will be issuing a statement "imminently" on the demise of their often tempestuous relationship, which has been the subject of much speculation in recent months.
Madonna, 50, is in the midst of her Sticky and Sweet tour and is set to play Boston Wednesday night. Ritchie, 40, was believed to be on the U.K. set of his latest film, Sherlock Holmes.
Guy Ritchie's family had not given any comments when they had been interviewed.